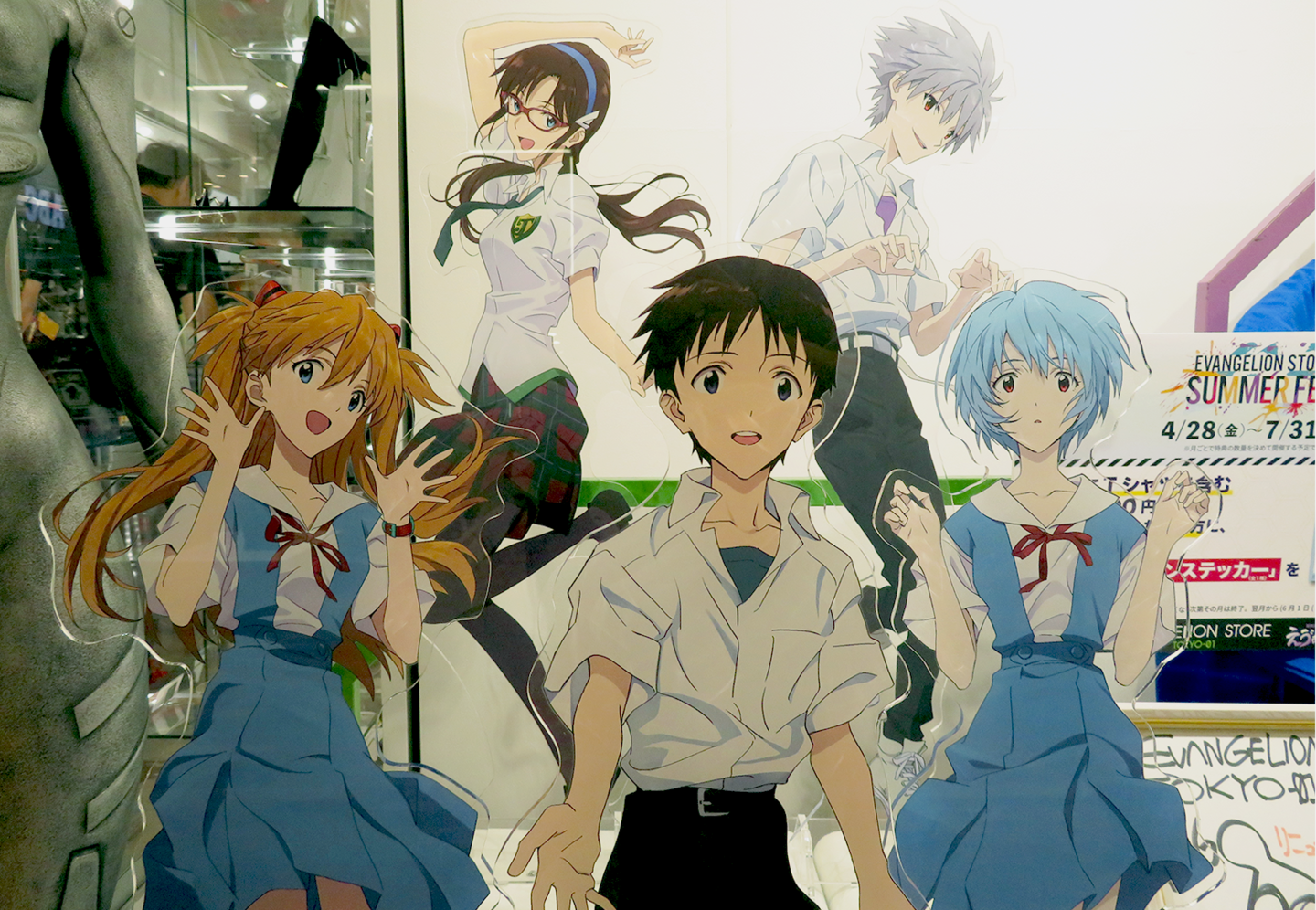 Evangelion Store Tokyo 01 is the flagship store of the Evangelion Store. At the storefront, eye-catching figures of Ayanami Rei and Asuka welcome visitors. One notable attraction is the big acrylic stand towering at a height of 60 centimeters, capturing the attention of customers.Acrylic charm sets, each representing different characters, seem to be popular among visitors.

They also offer merchandise such as Asuka's monkey plush toy from the movie "Evangelion: 3.0+1.0 Thrice Upon a Time" and items featuring WILLE.In addition, they have WILLE-themed bandanas, masks, mugs, and more, making it a must-visit for fans of WILLE. The store also offers a variety of apparel items, including RADIO EVA and Eva-designed clothing.Known for its popularity among foreign visitors, this store attracts a large number of tourists, resulting in a crowded interior.
Access to Evangelion Store Tokyo 01 is straightforward. Simply head towards PARCO after exiting the East Exit of JR Ikebukuro Station. PARCO is a famous shopping center in Ikebukuro and is directly connected to the station. It takes just a few minutes to walk from Ikebukuro Station to PARCO.Ikebukuro is a city known for its abundance of anime and manga merchandise, and it has become a pilgrimage site for anime fans, alongside Akihabara in Tokyo. In addition to the Evangelion Store, there are other stores such as Gundam and Pokémon stores, as well as the specialized anime goods store, Animate. Visiting these stores together would provide an enjoyable experience.
RADIO EVA STORE is an apparel and goods shop for Evangelion. It serves as the retail outlet for Project RADIO EVA, which focuses on integrating "Evangelion into daily life." Inside the store, you'll find a wide range of apparel and goods inspired by Evangelion, including clothing, bags, and interior items. The products available at this store are characterized by stylish color combinations and a strong sense of design. The quality and design of the apparel items in this store are quite high, but they also come with a higher price point and a relatively limited selection.

For those interested in Evangelion figures and miscellaneous goods beyond apparel, it might be better to visit the Evangelion Store in Ikebukuro. This store is located within the "Parco" building, which is primarily focused on apparel, making it easier to understand its role as one of the apparel shops selling Evangelion clothing. If you're looking to acquire Evangelion T-shirts, hoodies, or bags, it's a good idea to pay a visit at least once.
RADIO EVA STORE is located on the 5th floor of Shibuya Parco. It's about a 10 to 15-minute walk from the station. If you use Shibuya Parco as a landmark and walk, you should be able to find your way easily. On the upper floors of Shibuya Parco, you'll also find the Pokémon Center Shibuya and JUMP SHOP SHIBUYA. These facilities are popular among tourists and tend to be quite crowded. If you're a fan of anime, visiting the Pokémon Center and JUMP SHOP along with RADIO EVA STORE could be a great idea. Additionally, near Shibuya Station, you'll find the official One Piece store known as Mugiwara Store. If you're interested, I recommend stopping by.