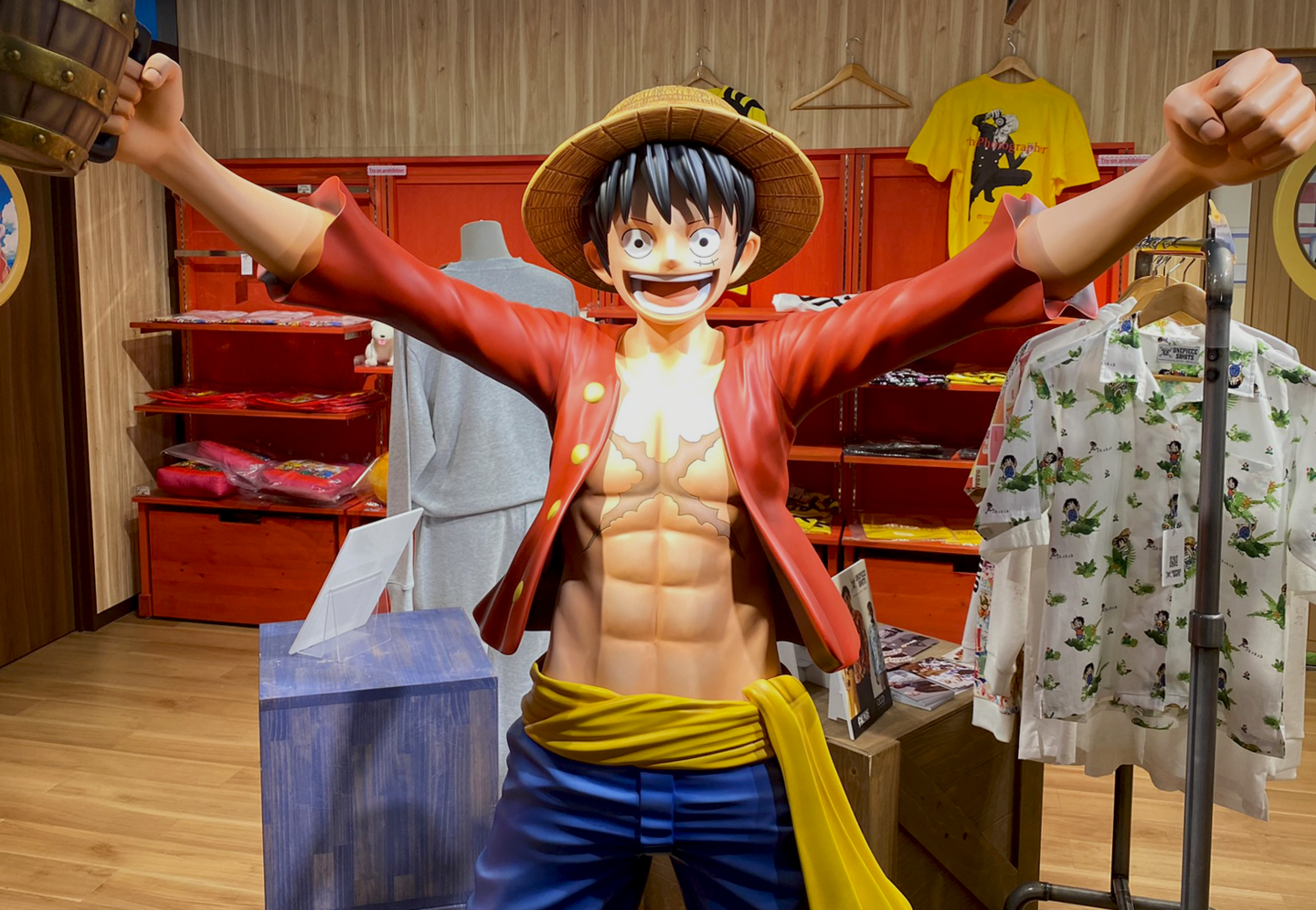 On this page, we will introduce shops and amusement spots that offer a wide range of official merchandise for the manga "One Piece."There is a great variety of One Piece merchandise available, with prices to suit every budget. Moreover, some stores offer life-sized figures for photo opportunities, and they also organize events tailored to the seasonal themes and developments in the original series. Visiting these shops is guaranteed to elevate your mood.
MUGIWARA STORE is the official merchandise shop for ONE PIECE located in Shibuya, Tokyo. In this store, you can find a wide variety of official items such as figures, models, apparel, accessories, snacks, games, DVDs, and manga related to the original work and anime. Additionally, they also offer exclusive merchandise that can only be purchased at MUGIWARA STORE.When limited edition goods are released, long queues often form in front of the shop. Although the store itself is not spacious, it is always crowded as it attracts not only Japanese customers but also many foreign tourists.
MUGIWARA STORE is located approximately a 3-minute walk from Shibuya Station, making it easy to find. It is situated next to the famous Hachiko Exit, which is the most well-known exit of Shibuya Station. The store is on the 6th floor of a building, and you'll notice many foreign tourists entering the building, so it should be easy to spot the shop's location. Due to its limited space, the store is often crowded with foreign tourists. When visiting MUGIWARA STORE, it might be worth stopping by the nearby JUMP SHOP Shibuya as well.
JUMP SHOP Shibuya is the official character shop for manga series serialized in Weekly Shonen Jump, including ONE PIECE. At the entrance of the store stands a statue of Monkey D. Luffy, the protagonist of ONE PIECE, which immediately catches the eye.Inside the store, a wide variety of merchandise from popular Jump series is densely displayed, organized by each respective series. They have an exciting selection of items that excite fans, such as ONE PIECE mugs, T-shirts, can badges, and stationery. The store is always crowded, with fans of various popular Weekly Shonen Jump series visiting, creating a vibrant atmosphere. Despite the large number of products, they are well-organized and easy to find. Additionally, the exterior walls of the store are decorated with iconic scenes from the original works, adding a unique touch to the official shop experience.
JUMP SHOP Shibuya is located on the 6th floor of Shibuya Parco. On the same floor, you will find other attractions such as the official Pokémon store, Nintendo's official store for games, and an e-sports café. The floor is always crowded and buzzing with excitement. It takes approximately a 10-minute walk from Shibuya Station to reach the store. Look for Shibuya Parco as a landmark to guide you there.