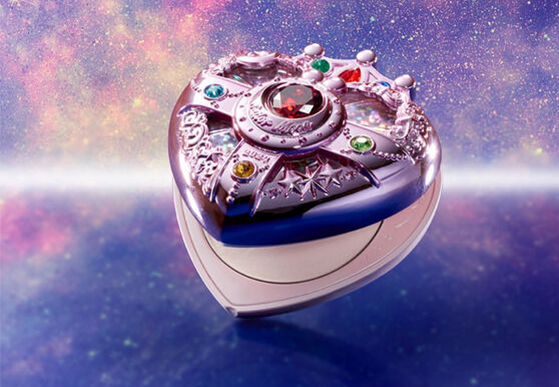 2023.10.1
Pre-orders have begun for the 2024 limited edition face powder from the "Miracle Romance" cosmetic brand of "Pretty Guardian Sailor Moon". Pre-orders are accepted on "Premium Bandai" until 23:00 on October 5, 2023, and this product is scheduled to be shipped in January 2024. The "Miracle Romance Shining Moon Powder 2024 Limited Edition" is the sixth installment in the "Shining Moon Powder" series that started in 2018.
This product features a delicate design adorned with finely detailed stars and moons, inspired by the "Cosmic Heart Compact". The central stone is made of cubic zirconia, shining elegantly with pink gold plating, and a holographic sparkle can be seen from inside. Additionally, the number "2024" is engraved and shines at the bottom center of the compact. The inside of the compact also features curved motifs and sparkling moon motifs, expressing the Sailor Guardians' lovely and strong hearts, with the delicate and beautiful engraving visible each time the compact is opened.
Furthermore, the powder adopts a user-friendly clear color finish powder. With a formula containing spherical powder with a soft-focus effect, pores that stand out due to shadows are made less noticeable by the light-diffusing effect of the spherical powder. The fragrance of roses gently and beautifully spreads every time the compact is opened, making for a very glamorous feeling. The price of the "Miracle Romance Shining Moon Powder 2024 Limited Edition" is 16,500 Japanese yen.
<Product Details>
■Set Contents
1 Face Powder, 1 Puff, 1 Puff Case, 1 Powder Spill Prevention Sheet.
■SizeWidth
Approximately 85mm, Height: approximately 40mm*Gold tray... diameter: approximately 58mm, thickness: approximately 5mm.
■Website
https://sailormoon-official.com/goods/cosme/limited0913.php